News
Tweets
Official lyric video for Stalemate - https://t.co/ZDygqrvLY5. Get Marc Martel's new album "Impersonator" @ http://t.co/m1G8XF4KJ6

11:24 PM - 15 Jan 15

Here's to 2015 QUEXers!

3:38 PM - 5 Jan 15

RT @QueenWillRock: Freddie Mercury - Lover of Life, Singer of Songs. 5th September 1946 - 24th November 1991. http://t.co/IB6LunAKLk

12:07 AM - 24 Nov 14

RT @OfficialRMT: Roger will be appearing on Loose Women next Thursday, 27th November on ITV at 12:30pm.

2:07 PM - 19 Nov 14

RT @tylerwarrenrock: My boss @OfficialRMT doing what he does best, for a great cause. Support it. #BandAid30 - Available 17.11.14 http://t.…

2:05 PM - 19 Nov 14
Christmas Greetings!
December 24th 2014
Happy Christmas QUEXers!
Thanks for all your top pop rockin' support this year!
See you in 2015!
(Photo: TX63 Music Photography www.facebook.com/TX63Music)
Notes From The Road...Queen Extravaganza UK 2014
October 22nd 2014
The North American band and crew arrived on the red eye from various parts of the US and Canada on the 3rd September. This time round we only had one days rehearsal before our tour started on 5th so we separated out Lights for prepping at another location and ran band rehearsals at a small rehearsal studio in Reading on the 4th.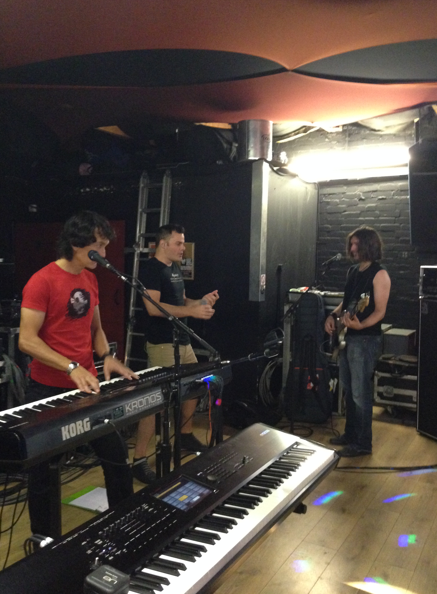 All went well and the band were as tight as ever. Even with the introduction of new songs and medleys.
Everyone was in good spirits although Francois-Olivier had arrived with a cold / fever caught on the plane over the to UK, which spread through the tour bus affecting everyone at some stage before the end!
This was Queen Extravaganza's second tour of the UK and we were all excited to see how the audience would react to not only us being back less than a year since our first tour, but also to the new additions in the set list.
The profile of Queen is flying as high as ever with the huge North American, Asia and Australasian tour carried out by Queen + Adam Lambert and we all enjoyed catching their performance in Uncasville CT, earlier in the year at the invitation of Brian and Roger.
Our first performance was looming in Reading on Friday 5th September, which would have been Freddie Mercury's birthday. Very apt! The venue was The Hexagon which is a beautiful place but one Queen Extravaganza had not performed at before.
This time round we had the luxury of having the same crew with us as our last tour in May, which is always fantastic as everyone knows their job so well. The only change was our bus driver, who was Andrew from Newcastle - which provided us Brits with hours of entertainment whilst the North Ameri-cans tried to figure out his Geordie accent!
Show day came, the band were ready, the crew were ready. Were the fans of Reading ready?
They did not disappoint and we had an amazing night ending up with dedicating the show to Freddie.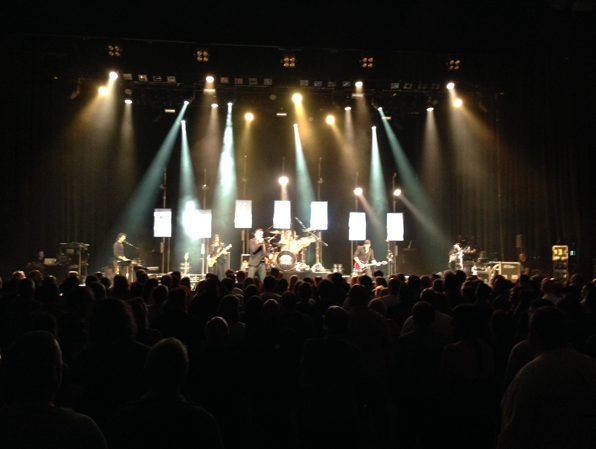 The tour continued with ever increasing numbers and reactions from the fans. I think the comment we hear time and time again is people attending for the first time really can't believe how good this band is!
The band's first visit to Wales was celebrated by us playing at St David's Hall in the capital Cardiff. Another memorable first which we hope to repeat next year.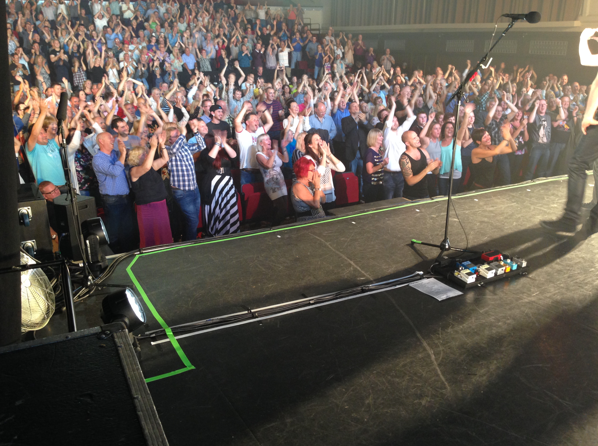 We had Spike Edney and Roger Taylor come to see us in London which is always a huge thrill for all of us and Roger brought Taylor Hawkins with him to see us live for the first time and Rufus Taylor was also there.
Taylor Hawkins had met the band before whilst they were rehearsing at the Foo's studio in LA back in 2012 - both had a great evening. It was amazing to see arguably two of the world's best Rock drummers sitting together watching the band play! For me also being a big FF fan - disappointingly Brandon managed to photo bomb my pic with Taylor!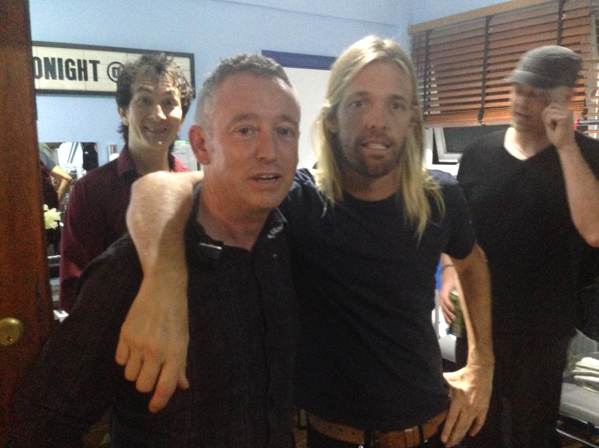 Performing in London is always special and if there is one show the band will be nervous before it is London, but again our second time at the Shepherd's Bush Empire was a huge success
Photo credit: Jim Templeton-Cross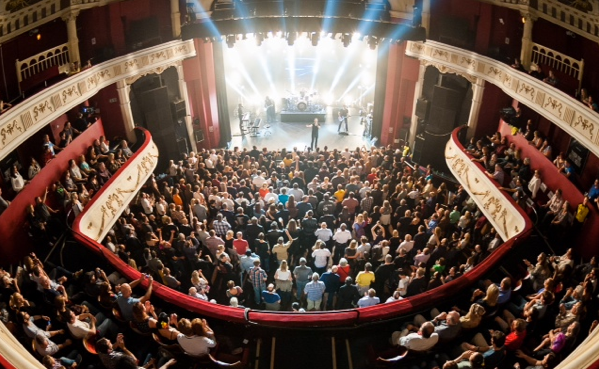 More Queen band members turned up in Leeds with Neil Fairclough in atten-dance who always comes out and supports us if he isn't working.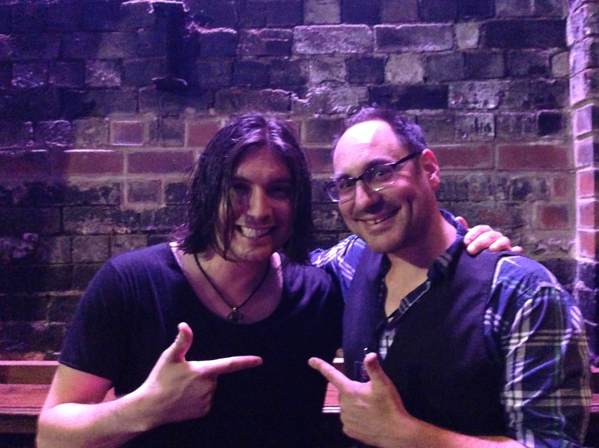 So, the end of the tour came all too quickly. Obviously we plan to come back to the UK and 2015 looks like being an interesting year for Queen Extrava-ganza. More plans to be announced soon….
Thanks for all your support in all the cities we visited and we look forward to seeing you all down the road!
Until then I will leave you with this film of our day in Shepherd's Bush produced by our very talented Video Engineer James Adkins.
Paul Bond
Tour Manager
Worthing: Final UK Show Photos Uploaded
October 21st 2014
Click here to check out all the images of the Queen Extravaganza's final show in Worthing on their recent UK Tour.
(All Photos:TX63 Music Photography www.facebook.com/TX63Music)
Tyler's UK Crowd Compilation...The Return
October 14th 2014
A compilation of every show's crowd from the Queen Extravaganza's 2014 UK Tour from September 5 - September 23, 2014, straight from Tyler's iPhone (or Marc's iPhone this time, since Tyler's was in iPhone heaven). Try to find yourself in the crowd!
Marc Martel - The Mercurotti
October 1st 2014
Marc Martel: "A duet of two of my favorite musical influences, Freddie Mercury and Luciano Pavarotti. This is one continuous performance from start to finish, shot in one take, using two cameras. No audio has been cut or replaced. I added the "Pavarotti" harmony for "Vincero, Vincero!" afterwards, since I have yet to master singing in both voices simultaneously. Stay tuned, though."
Get Martel's new album "Impersonator" here.
1